"Wittman"
7 rounds for time:
15 KB Swings (53/35)
15 power cleans (95/65)
15 box jumps (24/20)
35 minute cap.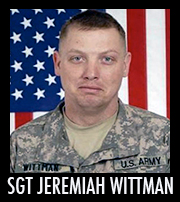 U.S. Army Sergeant Jeremiah Wittman, 26, of Darby, MT, assigned to the 1st Battalion, 12th Infantry Regiment, 4th Brigade Combat Team, 4th Infantry Division, based out of Fort Carson, CO, was killed on February 13, 2010 , when insurgents attacked his unit with a roadside bomb in Zhari province, Afghanistan.He is survived by his daughters Miah and Ariauna, wife Karyn, siblings Robert H., Charity, Jenell, and Natasha, father Robert, and mother Cynthia Church.First posted February 10, 2011
For those of you that don't know, we do Hero WODs frequently. they are workouts designed by CrossFit HQ to honor those who have given the ultimate sacrifice in our military, law enforcement, and fire departments. Please don't skip these workouts because they look hard. They ARE hard, but they also honor those that gave their lives protecting us and our loved ones. I expect to see BIG classes tomorrow.