"Holleyman"
30 rounds for time:
5 wallballs (20/14)
3 HSPU
1 power clean (225/155)

HOLLEYMAN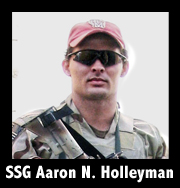 U.S. Army Staff Sergeant Aaron N. Holleyman, 27, of Glasgow, MS, assigned to the 1st Battalion, 5th Special Forces Group, based in Fort Campbell, KY, was killed on August 30, 2004, when his military vehicle hit an improvised explosive device in Khutayiah, Iraq.
He is survived by his daughters Shelby and Erin, son Zachary, parents Ross and Glenda, and siblings Kelly and Daniel.
First posted August 30 2012

37 minute time cap. This workout is very mentally challenging. 30 rounds of anything is TOUGH. I wouldn't program it if I didn't think every single one of you could get through it. Come in and attack this and show this fallen hero the respect he deserves.